MUṢḤAF: Jurnal Tafsir Berwawasan Keindonesiaan (P-ISSN: ... ; E-ISSN: ...) is published twice a year by the Departement of Qur'an and Tafsir, Faculty of Islamic Religion, Nurul Jadid University Probolinggo, East Java Indonesia.
The journal aims to publish an original academic research on the main topic of the Quran and Tafsīr studies. The subject specializes all issues on Indonesian understanding in Qur'an and Tafsīr, such as Indonesian exegesis, methodological examination of Indonesian scholars to the Qur'an and tafsīr, Indonesian scholar manuscript, the living phenomena on Indonesian Islamic tradition, and all related issues to the interdisciplinary studies of the Quran and tafsīr in Indonesia.
Indexed by: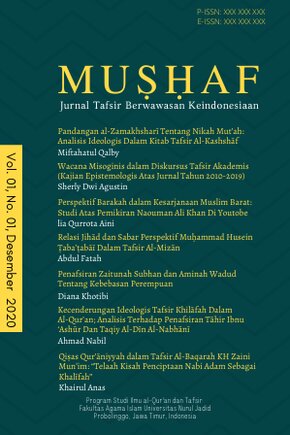 Announcements
No announcements have been published.
Vol 1, No 1 (2020)
Table of Contents
Articles

(1)&nbsp&nbspMiftahatul Qalby&nbsp(Nurul Jadid University ,&nbspIndonesia)

|
Abstract Article Readed:
21 times
| PDF Downloaded:
10 times

(1)&nbsp&nbspSherly Dwi Agustin&nbsp(Nurul Jadid University ,&nbspIndonesia)

|
Abstract Article Readed:
11 times
| PDF Downloaded:
4 times