Journal of Electrical Engineering and Computer (JEECOM) is published
by Engineering Faculty of Nurul Jadid University, Probolinggo, East Java, Indonesia
.
This journal encompasses research articles, original research report, : 
Power Systems
Generator
Power Distribution
Electrical Power Convertion
Protection Systems
Electrical Material
Signal, System, and Electronics
Digital Signal Processing
Image Processing
Robotic Systems
Control Systems
Embedded Systems

Communication Systems
Telecommunication
Wireless Communications
Computer Network

Information Technology
Software Engineering
Data Mining
Multimedia
Mobile Computing
Parallel / Distributed Computing
Artificial Intelligent
Computer Graphic
AR/VR
Geographic Information System
Journal of Electrical Engineering and Computer (JEECOM) : (
P-ISSN
:
2715-0410
E-ISSN
:
2715-6427
). Published twice a year (
April
and
October
)
Indexed By :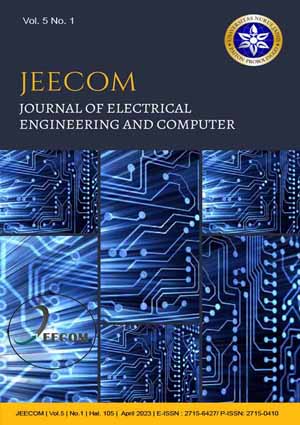 Announcements
No announcements have been published.
Vol 4, No 2 (2022)